Interview with Farba
On 16 October, Mr. Farba Gaye started as Lignaverda's new Operational Manager in Senegal. We managed to ask him some questions just before he left his current home in France to leave for Senegal.
Farba, You had a good job in France. Why did you decide to return to Senegal and join Lignaverda?
I decided to return to Senegal to be closer to my family and to contribute to the development of my country. Passionate about nature, I would like to help restore the forest and the habitat it provides for wildlife. Working as Operational Manager for Lignaverda in Senegal is an opportunity for me to contribute to the fight against global warming. I am well aware of the dramatic consequences climate change has, especially on agriculture and livestock herding. But I am also motivated to improve the livelihoods of the rural population. Trees will improve land productivity and resilience, providing rural communities with additional income from products derived from reforestation.
I decided to return to Senegal to be closer to my family and to contribute to the development of my country. 
With their reforestation activities, Lignaverda aims to contribute to the Great Green Wall. What do you think of this international initiative? What are the opportunities and challenges?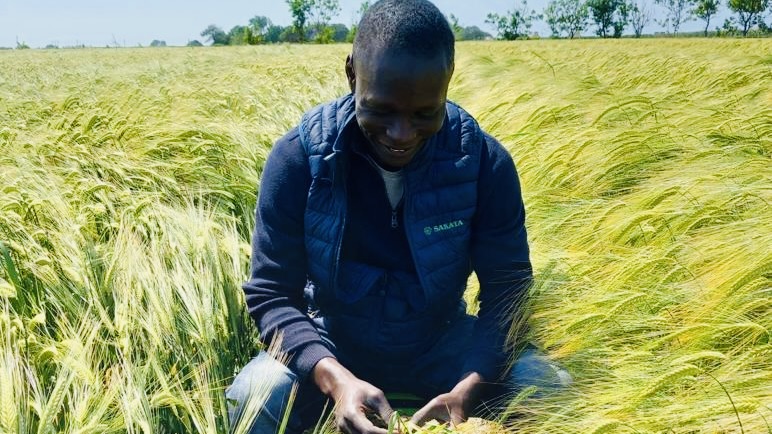 I find the Great Green Wall a very interesting and future-proof initiative. Reforestation not only protects the planet, but also brings about socio-economic change for the rural poor. Lignaverda's reforestation projects offer employment opportunities, promote local entrepreneurship while at the same time facilitating socio-economic development in and around the forests. The challenge is to consolidate these important contributions to combating climate change, land degradation and rural poverty, so that the forests will thrive for many decades to come.
Lignaverda is currently expanding its reforestation activities in Senegal. Our ambitions are high: each year we want to reforest an additional 2,000 ha of degraded land in the Senegalese Sahel. How are you going to prepare the team for this big task?
I will focus on task allocation and coordination, communication and continuous evaluation and adaptation of the team's performance, in order to discover the levers that need to be put in place to optimize team's work and achieve the desired objectives.
You will soon be traveling to Dakar to take on the role of new Operational Manager in Senegal. What are your plans for the first few days?
I will first of all take sufficient time to meet the team members and to get to know them better. I will further map the complete list of projects and processes for which the team is responsible and will determine the scope and time required for each project. I plan to break down the different projects into smaller tasks and work streams using a task flowchart. This will allow me to better assess my colleagues' weekly or daily workload and adapt where necessary. In close collaboration with Wouter, the Operational Director in Belgium, we are going to carry out a needs analysis and determine what the team needs to work on as a priority, to better plan the completion of tasks and thus the organization of the work. Basically, the aim is to get the team moving in the direction that Lignaverda has set out globally to fulfil its landscape restoration objectives.
Thank you Farba, we wish you all the best with these new and exciting challenges!